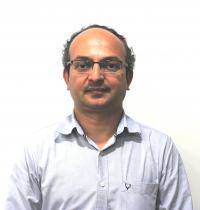 Location
207, Environmental Systems Research Laboratory (ESRL) , ESED-DESE Building
Prof. Subhankar Karmakar
Core Faculty
Professor
Download Curriculum Vitae (CV) PDF
Background
Ph.D. (Water Resour. & Env. Engg.)

2006, Indian Institute of Science, Bangalore, India

Thesis: Grey optimization for uncertainty modeling in water resources systems

B.E. (Civil Engineering)  

1998, Jalpaiguri Govt. Engg. College, West Bengal, India

Thesis: Design of steel truss road bridge
Professional Appointments
Vinaya & Samir Kapoor Chair Professor in Climate Studies (2023-till date).
Editorial Board Member (Environmental Engineering) of the Scientific Reports journal published by Nature Portfolio (2022-till date).
Associate Editor, Frontiers in Water and Built Environment Journal (from 2019 - till date).
Managing Guest Editor, Special Issue (January 2021) - Water Security in Floodplains, Science of the Total Environment, Elsevier.
Member, American Geophysical Union (AGU).
Member, International Water Association (IWA).
Member, International Society of Ecotoxicology and Environmental Safety, Germany.
Member, Editorial Advisory Board, Journal of Disaster Advances, India (2012 - 2015).
Associate faculty, Interdisciplinary Program in Climate Studies (IDPCS) at IIT Bombay, PI of DST-Centre of Excellence in Climate Studies (2018-2024)
Associate faculty, Centre for Urban Science & Engineering (CUSE) at IIT Bombay
Visiting Scholar (June 2010 - October 2010) at Nicholas School of the Environment, Duke University, North Carolina, USA.
Post-doctoral fellow (2006 – 2007) at Department of Civil and Environmental Engineering, The University of Western Ontario, London, Ontario, Canada
Awards & Fellowships
Vinaya & Samir Kapoor Chair in Climate Studies, Interdisciplinary Program in Climate Studies at IIT Bombay (2023-till date).

Research Excellence Award 2020, IRCC, IIT Bombay.

Professor S.P. Sukhatme Award for Excellence in Teaching 2019, IIT Bombay.

Vice-chairperson, International Conference on Flood Management (ICFM) Ad Hoc Committee, 2020 - present < https://www.icfm.world/pdf/ICFM8_Book.pdf >

Work done in DST Fast Track Project adjudged "Excellent" (May 2014) by Dept. of Science and Tech., Govt. of India

BOYSCAST Fellowship 2009 - 2010 from Dept. of Science & Tech., Govt. of India

Recommendation for the Upgradation of Registration from Master's degree programme to Ph. D. degree programme by the Senate Committee, Indian Institute of Science, Bangalore, decided on an academic excellence basis. 
Jan. 2017-Oct. 2017,   A Data Driven Analysis to Rationalize Water Quality Monitoring Network over Major Indian Rivers under Changing Climate,   IRCC Internship Project
Jan. 2015-Sept. 2015,Mapping of Risk to River Flow Extremes in Changing Climate,IRCC Internship Project
Jan. 2012 Sept. 2012,A decision support system for optimal selection of wastewater treatment technology,IRCC Internship Project
Jan. 2012 Sept. 2012,An optimization approach to assess lake trophic status,IRCC Internship Project
Dec. 2013-Aug. 2014, Climate Change Induced Impacts on Quality of Fresh Water: A Data Driven Analysis on Major Indian Rivers,IRCC Internship Project
Dec. 2012 July. 2013,Assessment of vulnerability to natural or environmental hazards in an overpopulated urban region,IRCC Internship Project
2018-2022,DST-Centre of Excellence in Climate Studies, IIT Bombay,Department of Science and Technology
2018-2020,Impact of climate change on water resources in river basins from Tadri to Kanyakumari,Ministry of Water Resources (MoWR), GoI
2016 -2019,Coupled Human And Natural Systems Environment (CHANSE) for water management under uncertainty in the Indo-Gangetic Plain,Ministry of Earth Sciences (MoES), GoI (Indo-UK)